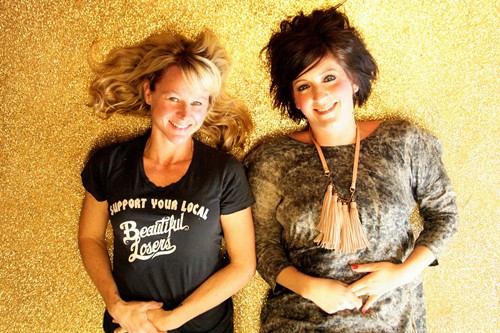 Raising money can be a nightmare OR it can be a dream come true.
For Kate Mills and Ashley Sheehan from Nashville's Old Made Good (OMG) it was like a white Christmas morning miracle.
Back story: So there's these two hilarious ladies that light up my day via their Facebook posts that operate an awesome small business in East Nashville. I first heard about them from Style Blue Print's "Faces of Nashville" post in August and since then I've started following them online I feel like they are my besties… and they don't even know me.
Now they are opening a new store and hitting some road blocks along way, including a gold glitter floor that is getting everywhere from their clothes to the inside of their lungs, AKA Glitter Lung.
How do they stop the Glitter Lung? Launch a massively successful fund raising campaign that raised well over their desired amount in less that 2 days.  How did they do it?
1. Tell everyone online.
2. Create a hilarious video.
3. Launch a fundraising site.
4. Wait and then see how the power of a person's heart can change the future.
The next day StyleBluePrint wrote a post asking for their subscribers to help their friends and that's where we saw people paying it forward — all for a gold glitter floor.
After that post hit inboxes Monday morning, the goal was met and OMG "… was sitting on the glitter floor sobbing at the generosity of so many people, some that don't even know us, for something as utterly ridiculous as a glitter floor… it's truly inspiring."
Inspiring is right! Thanks OMG for energizing a city so that we all can sparkle just a little bit more.  Love you!
To read more articles inspired by these two amazing women check them out on the Nashville Scene and Zarna's Runway.
Friend them on facebook and donate today!
Images, links and quotes from OldMadeGood facebook page.